Premier IT support meets exemplary customer service. We operate at the intersection of expertise and fun.
Making sure your technology is running smoothly isn't easy. The average non-tech employee spends at least 22 minutes a day solving technical problems. That adds up to 8 hours a month where employees are being pulled away from their jobs, not hitting deadlines, or are using equipment that just isn't working properly.
And yet, sometimes you do have a solution in place… it's just not working.
Maybe your current IT solutions provider dropped the ball on something, and you got hit with ransomware. Or your current tech team doesn't have the bandwidth to keep up with the day-to-day needs of your business. It's also possible that you just don't have the skills you need in-house to deliver the level of IT service your business needs to stay competitive.
Sometimes, though, it's a matter of cost. You're spending more than you hoped on IT services or you're being nickel-and-dimed by a provider who promised flat-rate pricing, but failed to mention all the extra costs.
That's where we come in.
---

Let Manhattan Tech Support become your technology partner
We're a managed services provider (MSP) that provides comprehensive tech support and services for all your business needs.
Complementary tech support for enterprises. We can fill in the gaps and augment your in-house IT team.
A full-service outsourced IT department for SMBs and start-ups. You focus on your zone of genius - we'll take care of your tech stack.
A customized solution that supports your business structure and goals. Your business needs are unique and special, so is how we treat you.
---

Work with a multiple award-winning technology partner in NYC
Inc. 5000 – This annual list by Inc. Magazine celebrates innovation by entrepreneurial leaders, and ranks the fastest-growing companies by industry, city, and employee count. MTS is proud to be considered one of the fastest-growing companies in the managed services field.

Crain's Best Places to Work in NYC – Every year, Crain's New York releases its list of the best places to work in NYC and we made the list. Our employees love working here and the level of service they provide to our customers reflects that.

Channel Future MSP 501 – Channel Future ranks the top MSPs in the world with its annual MSP 501 list. The MSP 501 is a celebration of MSPs (like us!) that take risks, make strategic business decisions, and have an unparalleled dedication to customer support.

CRN MSP 500 – CRN's MSP 500 recognizes the top MSPs in the US. We're honored to be on the list and recognized as a forward-thinking technology provider working hard to drive innovation and deliver world-class customer service.
---

New York's most-loved, highest-rated IT Support partner
People might hate to have to call us, but they love our support team. Not only do we provide exceptional customer service, but we bring a level of professionalism to the table you have to experience to appreciate.
Our experienced techs:
Have the knowledge you need to solve your technical problems fast, either over the phone or in-person
Follow up to make sure everything is still working afterward
Make suggestions to keep problems from happening again
Help you find safe alternatives or new technology solutions that can improve your tech stack
Can work with all levels of proficiency, from novice tech person to seasoned expert
Love what they do. They bring their passion to work every day and it shows.
---

But don't take our word for it, see what our customers are saying...
View all our reviews on:
---

How Manhattan Tech Support helps your business
24/7 availability

Tech problems don't take the weekend off and neither do we. We're ready to help when something goes wrong. Our standard hours are 7 AM to 7 PM (ET), but we can always be reached for after-hours emergencies on our support line at 212-710-2338.

Flat monthly fee

Get the comprehensive coverage your business needs for one flat price each month. No "gotcha" fees or surprise surcharges. You get predictable technology costs each month, allowing you to spend strategically and focus more money on growth.

Unlimited on-site and off-site support

There's no limit to the help you need, so we don't limit the service we provide. Whether on-site or off, we're here to help. We can provide remote support over the phone, by chat, or by email. And if remote support can't help, our techs will come to you to get things sorted out. Even if something goes wrong every day (which we are certain won't happen), you won't pay extra for our help.

Monthly contracts

All of our services are available month to month. As your business changes, so do your IT needs. We don't lock you into long-term contracts, which allows you to save money, get the help you need when you need it, and strategically grow your business. You get the help you need, when you need it, for as long as you need it. No strings attached.

US-based IT technicians

We work with a team of highly trained techs who have the skills, experience, and certifications you need to feel confident about their abilities. Our employees are friendly, helpful, and easy to work with. And, all our tech staff is based here in the US, so they're always available to help during regular North American business hours.

Always available on the phone

When you're having tech problems, the last thing you want is to deal with another machine to get help. We don't waste your time with interactive voice response (IVR). You get human support whenever you call. Our technicians are ready to help you 24 hours a day, 7 days a week.
Our core support offerings - we can take care of all your IT needs.
IT CONSULTING AND STRATEGY
We can help you understand and plan the technical requirements for your organization's IT infrastructure needs, based on your strategic business goals. We assess your objectives and plans for growth and make recommendations on the technology you need to drive your business in the right direction.
With our IT consulting services, you'll experience long-term efficiencies leading to better performance and cost-savings, as we optimize your systems. We can help you be more alert and ready for any potential cyberattacks, through proactive monitoring. And, when you work with a technical partner who thinks three to five years ahead on your behalf (like we do), you'll always be ready for the next innovation that gives you the competitive edge over the other guys.
Get expert advice on areas like:
Project scoping and planning – Get insight into your specific tech needs for each phase of your growth. We can't predict the future of your business, but we can help you be ready for any technological changes that affect you. We keep an eye on your business goals and update your IT strategy as the technology landscape changes to ensure your business is always ahead of the curve.

Cloud computing strategy – We work closely with you to understand your business's specific needs so we can help choose and integrate the cloud applications that will best serve your business. We help manage identity and access control. And, we help secure your cloud data to ensure safe employee collaboration. From planning and migration to implementation and ongoing management - we do it all for hundreds of businesses in NYC.

Cybersecurity strategy – The cybersecurity landscape is changing all the time. We help you stay safe, with proactive strategies that are customized to your business and industry. We help you stay compliant with relevant regulations, provide access to zero-day threat intelligence, perform risk assessments and penetration testing, and help you plan incident response strategies.

Software development services – Your business is one of a kind. Your technology can be too. Get tools developed specifically to help you solve the exact problem facing not only your business but your industry. We have deep, vertical-specific knowledge of the healthcare, legal, and finance industries, among others. We can create platforms to help you streamline and automate business processes, and develop and deploy business intelligence solutions for superior reporting and analytics. We use the AGILE methodology that incorporates your feedback to constantly improve your software tools.

Disaster recovery strategy – The best way to keep your business data safe is to prepare for the worst. We offer disaster recovery strategies to help you stay safe from cyberattacks, weather events like hurricanes and snowstorms, electrical problems, and even employee-related mishaps. Our goals are to:
Minimize downtime
Limit damage to your physical infrastructure
Train your staff in emergency protocol
IT HELPDESK SUPPORT
Our helpdesk support team can solve your problems as they arise. Our technicians are available 24/7 to keep your tech running smoothly. We can help in-house or remotely, depending on your needs. We're always just a phone call, email, or live chat away.
We're also easy to work with; our process is simple:
It's really that simple. Downtime is costly – we work hard to minimize it. We can help you with any problems that arise, including:
Slow or crashing computers
Printer issues
Configuration and setting issues
Accidentally deleted files or folders
Connectivity and speed issues
Password reset and account lock considerations
Our helpdesk staff has certifications and training from all the leading IT vendors. This means that if you break it, we can fix it using best practices from vendors like:
Microsoft
VMware
Cisco
Google
Apple
Netgear
Symantec
And many more…
Get the level of IT support you need with no contract, no minimums, no service limits, and no extra fees or charges.
Fully managed IT helpdesk – Our full-service package is great for startups that aren't ready for the expense of in-house support but need to keep things running. We have documented processes based on our 20 years of experience helping various-sized businesses across a wide range of industries.

Flexible helpdesk support – Give your in-house team a break with our supplemental support package. We can help you solve the day-to-day problems, while your IT department focuses on big-picture tasks that help you grow your business
Best of all, you can reach us any way that's convenient for you, 24/7. We're not tied to a single contact method. If you need us, you can reach out over:
Email – We can answer questions and provide support via email.

Phone – Our phones never go unanswered. We won't send you to voicemail. Call us. We'll help.

Remote support – If your problem is simple enough to solve remotely, we'll get it
taken care of from our offices so you can get back to work.

On-site support – If you need us on-site to solve more complex problems, we'll be there.

Chat – Our techs are available via online chat to help with your IT problems.
NETWORK AND SERVER ARCHITECTURE DESIGN, IMPLEMENTATION, AND MANAGEMENT
Get best-in-class network and server solutions that keep everything running the way your business demands. We can design and manage your network, help you scale up or down, and ensure you get maximum uptime to keep your business operating at full capacity.
Our experts love helping you build solutions using the latest network technologies. And we don't just stop at installation. We constantly monitor the health of your network infrastructure and make tweaks and optimizations to ensure your network is always providing the best possible service.
With our help you can:
Find the best network devices (like routers and switches) for your business
Create a network topology that reflects your business's structure and goals
Get best-in-class security features like firewall and proxy servers
Get optimum connectivity with enterprise-grade equipment - easy maintenance and management
We work with industry-leading partners and technology vendors to bring you the best possible network solutions from companies like:
Cisco
VMware
Microsoft
Ubiquiti Networks
You can also get our help developing solutions for mission-critical infrastructure tasks like:
Server room design – We work closely with you throughout the entire process, from drafting the initial concept to implementing the final design. We also provide ongoing maintenance of your server room once everything is up and running.

Cooling systems – Keeping your servers cool is an afterthought for some, but we like to make sure it's front and center. Without proper cooling systems in place, servers can overheat, break down, and cost your company money and productivity. We can help you protect your server space by evaluating your power demands and making recommendations to keep things chill.

Network traffic control – We look at your systems, checking for bottlenecks that can impact network functionality. We take this one step further by helping ensure that teleconferencing services and VoIP applications are getting the bandwidth they need.
CLOUD COMPUTING – MIGRATION AND MANAGEMENT
Cloud computing is on the rise, with 90% of businesses already taking advantage of it. This cutting-edge technology makes it easier to adapt and set your business up for success by allowing you to effortlessly scale up and down, as needed. We can help you move your business to the cloud and manage everything once you're there.
Improved, on-demand scalability – You can scale the resources your business needs up or down at a moment's notice. Cloud computing makes it possible for you to adapt to sudden increases (or decreases) in demand, without sacrificing productivity.

Better efficiency – We take the burden of managing, supporting, and maintaining your application out of your hands so you can focus on your business. We ensure everything is always running and available for your staff to maximize uptime and reduce the costs of downtime.

Increased flexibility and mobility – The cloud makes it possible for you to work from anywhere, anytime you need to. Not only that, it lets you collaborate with teams on projects as easily as if you were in the same room.

Enhanced security – The cloud is more secure than ever thanks to constantly evolving security best practices. We help you prevent data loss by providing threat protection services that address the most common security problems.
Get a multi-cloud strategy that helps your business grow.
We help you navigate the cloud landscape to find the right combination of cloud services for your company. A multi-cloud strategy can produce a seamless digital experience for your business productivity.
We guide you through the process and help you understand which cloud services are the best for you. Cloud services like AWS, Azure, Google Cloud, IBM, and Oracle can all help your business in different ways. We help you strategically combine these services to create a killer suite of cloud-based services for your business.
From initial assessment to cloud migration, management, and maintenance, our experts can help you every step of the way.
CYBERSECURITY SOLUTIONS
Cybercrime is on the rise and the best way to protect your business is to be proactive about IT security. We offer managed security services, staff training, and help ensure your business is fully compliant with all relevant regulations. Through Kaytuso, our managed cybersecurity services division, we can help you with:
Cybersecurity training and development – We give your staff the training and understanding they need to recognize and prevent cyberattacks. We provide an in-depth look at how to prevent phishing attacks, how to keep your business safe from ransomware, as well as teach your staff the importance of good digital hygiene. Our education programs are a mix of online training sessions and hands-on simulations that provide a robust understanding of how employees can prevent cyberattacks.

Cybersecurity consulting and strategy – We have a strong framework that helps us assess the risks your business faces online. Not only do we determine how vulnerable your business is and provide you with a clear plan of action to reduce those vulnerabilities, but we also continue to monitor your business once the plan is in place to further optimize your security posture.

Regulatory compliance strategy and consulting – Complying with industry and location regulations is as important as security itself. Many industries require regulations to be followed closely to reduce the impact of attacks and data breaches on your customers. We can help you stay compliant with a wide range of regulations like FINRA, PCI-DSS, HIPAA, state-level requirements like NYS-DFS 500 and California SB-327, and FISMA/FEDRAMP certification prep.

Identity and access management – Poor passwords are responsible for upwards of 80% of breaches. We work with you to create stronger passwords to reduce the likelihood of attacks. This includes implementing multi-factor authentication (MFA) and educating staff on password best practices.

Vulnerability and penetration testing – The best way to know how secure your business is is to test it. We can assess potential weaknesses in your business, like out-of-date software or poorly patched firmware. We also test your systems with network penetration testing, physical security testing, cloud penetration testing, and social engineering testing.

Enterprise mobility management – If your workplace has a bring your own device (BYOD) policy, we can help you deploy mobile device management or enterprise mobility management platforms. These allow you to keep malicious software off mobile devices, remotely wipe company data, and allow for mobile collaboration tools to be safely used on all devices.
DIGITAL TRANSFORMATION SOLUTIONS
Bring your business into the modern age with digital transformation. We can help you with business intelligence solutions, website design and management, app development, and intranets that can, among other things, increase collaboration within your company. We offer digital transformation services through our digital transformation division,  Exceed Digital, where we help with:
Digital transformation – Eliminate inefficiencies and improve productivity with modern solutions that help you rethink old operating processes. We can help better serve your customers with cutting-edge tools and techniques, data-based decision making, and get better reporting from sophisticated analytics.

Custom software – Get custom software solutions that serve your specific needs. We can help you automate repetitive tasks, create better workflows, unlock hidden insights in your business data, or work smarter with collaborative software. You can also get custom web, desktop, or mobile applications to help drive your business.

Managed business intelligence – Not every team has room for a data scientist, but every company benefits from business intelligence. Our team can help you assess risk, reduce costs, and locate new areas of opportunity within your business. Reporting is made easy with our custom BI dashboards that let you explore and analyze your data in real-time.

Managed website services – Websites drive business in the digital age. They help potential customers understand what you do, how you do it, and how to get started working with you. But websites can be a lot of work. Let MTS take away the burden of building your website. We can plan, design, develop, and launch your website for you. Plus, we offer ongoing maintenance and updates to ensure your website is always running at its best.

Managed SharePoint intranets – A well-executed intranet helps you increase communication and collaboration among staff by giving them a dynamic platform that helps build a stronger workplace culture.

Powerful workflow and process automation – Work smarter and faster with tailormade solutions that help you improve efficiency and productivity by removing time-consuming manual processes. We can help you reduce human error, save money, eliminate data silos, and remove productivity bottlenecks from your processes.
TELECOMMUNICATION SOLUTIONS
Implement the latest in telecommunication technologies to help your organization. We can set you up with a customized platform that meets the demands of your business. We're your single partner for all your communications needs, whether you're setting up a VoIP system, need help with hardware procurement, or require assistance with vendor management. We use our decades of experience to provide you with a holistic approach to all your communications technology needs.
MTS can help you plan, display, manage and monitor your telecom infrastructure to ensure maximum uptime and minimum downtime.
Integrated communications – Empower your business with integrated voice and data communications. Your routers, firewalls, and servers will all work together to provide a seamless, worry-free communications platform that includes VoIP and teleconferencing services.

Data backup and security – Fast, highly reliable servers that support your disaster recovery and business continuity efforts. You'll never be caught without backup thanks to our customized storage systems.

Scale quickly – Leverage both platform as a service (PaaS) and infrastructure as a service (IaaS) to easily scale your IT needs. Get the extra capacity you need, when you need it.
More ways we serve your business
MTS offers a wide range of services to help your business beyond our core offerings.
VENDOR MANAGEMENT
We provide complete third-party management and give you a single point of contact for all the vendors you use. We help you manage software licenses, cloud vendors and mitigate any risks that come with using third-party vendors.
We can be your sole point of contact for such vendors as:
Microsoft
Verizon
Spectrum
Google
T-Mobile
VCIO AND VCISO SERVICES
IT is a strategic investment for your business, not an operational expense. Our experts guide your business with our virtual chief information officer and virtual chief information security officer services. We can help you decide on the best security and technology practices to help you meet your business goals. You can get the full CIO or CISO experience while saving money on staffing.
We act as your strategic partner for the future by keeping our fingers on the pulse of the industry. We proactively look for ways to help you save money, work smarter, and be ready for sudden shifts in the industry.
With the help of our vCIO services, you remain technically competitive. You always know what's developing, what's cutting edge, and what the benefit of any new technology may be for your customers.
OFFICE MOVES AND WIRING
It doesn't matter if you're moving to a new office or simply expanding your current one, we help you run wire and plan the move from a technical perspective, so you can keep your focus on growing your business. This service is built-in for existing clients, so even if you weren't planning any major expansions or moves, we've still got you covered.
Team growth – When your staff increases, your infrastructure has to grow along with it. We help you get the increased capacity you need to ensure you have room for new staff. You can also get additional server space, new computers, and more for your growing team.

Moving – Growth sometimes means a bigger office. We help you get your new office ready for your business, move your tech stack, and ensure everything is ready when you are, so your business doesn't have to pause while you move.

Changing business needs – Sometimes, your business shifts to meet market demands. This could mean new services or products, new industries, or discontinuing existing offerings. Whatever the need, we make sure your tech stack is up to the job.
REMOTE OFFICE AND WORKPLACE
Prepare your employees for a remote work or work from home (WFH) setup. Get secure virtual private networks (VPNs)for logging in, ensure access controls are in place, and provide your team with all the tools they need to do their job from anywhere.
Get started quickly – Sometimes, you need to be ready to WFH at a moment's notice. We have the infrastructure in place to help you and your team work from home fast, without interrupting the flow of work. We set you up for WFH success.

Training – WFH comes with its own unique set of security challenges. Workers are no longer in secure locations, using secure computers. They're spread out, using whatever space they can find to work. We can provide the training your staff needs to understand the security risks associated with WFH to help ensure your company data isn't compromised. We'll ensure staff understand the technology they need to use, provide tricks and tips for keeping their computers and work phones safe while working in public spaces, and give advice for keeping work separate from personal in a world where the two blend together.

The tools you need – We can configure all the apps and platforms your business needs for a quick, easy, and secure WFH setting. We can help you migrate your work suite to the cloud for easy access, effortless collaboration, and increased productivity out of the office.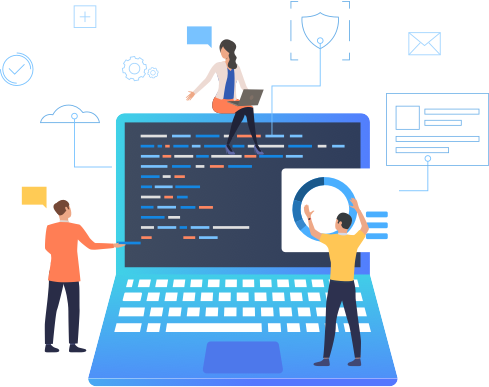 MANAGED WEBSITE SERVICES
Your business needs a strong digital presence to grow. But, finding the time that's necessary to put together a website that captures the attention of potential customers and compels them to buy isn't easy. Running a business takes up most of your time and the website inevitably falls by the wayside.
We can help. Our managed website services team can help you every step of the way, from planning to launch, to give you a responsive, mobile-friendly website that drives business.
You get:
Proactive operating system (OS) hosting
Cloud management suite (CMS) patching to ensure superior performance
Cloud hosting, including backups, malware scanning, and firewall management
Ongoing updates for your new content (blog posts, web pages, etc.)
A design refresh every three years, by request
You can also take advantage of our in-house marketing knowledge to develop user personas and stories, as well as conduct a red route analysis of your site to learn how people are using it.
Plus, we can offer advice on digital marketing vendors, and help with your website email integrations to help build your email list.
MANAGED SECURITY SERVICES PROVIDER (MSSP)
We take care of all your security needs through our MSSP division, Kaytuso. Get security testing, staff training, and consulting to make sure you're fully compliant with all regulations affecting your business.
We can help. Our managed website services team can help you every step of the way, from planning to launch, to give you a responsive, mobile-friendly website that drives business
---

Work with NYC's preferred managed IT services company
Maximize uptime
Downtime can cost your business thousands of dollars a minute and impact productivity. We keep your systems, and your business, running.
Improve security
Cybersecurity threats are on the rise. Keep your business safe from the damage caused by hackers.
Complete scalability
You need a system that can meet even unexpected surges in demand. We can help you scale up or down as needed to meet busy periods while saving money
Supplement your enterprise IT department
Between growing their businesses, developing their products, and finding new customers, startups have a lot on their plates. Having to deal with IT and other technical problems adds a layer of complexity to running a business that most founders just don't have the time, or the budget to properly deal with.
When you add to that the challenge of finding the right people, especially in IT, making sure your tech stack is being effectively managed can sometimes be an afterthought.
MTS can take care of all of that for you.
Startups can use managed service providers (MSPs) like MTS to take care of all their IT needs. From managing the help desk to ensuring maximum uptime, our highly trained experts keep everything running, so you can focus on growth and prioritize the projects that drive business. Best of all, you get everything you need for one monthly price, with no contracts or long-term agreements, and no surprise charges.
Full-service support for your growing business
Even enterprise-level tech teams have their limits, even when your business has needs. We can help your in-house tech team by taking on the tasks they don't have time to deal with themselves.
MTS can provide you with a supplemental tech squad to help manage the day-to-day needs of your business without spending a fortune on a secondary IT team. We can help you manage details like:
Help desk support
Security monitoring and maintenance
Software development
Digital transformation
---

Best-in-class technology solutions that don't break the bank
It doesn't matter if you're a lean startup or a well-funded enterprise, you still have to watch your bottom line. Keeping your tech stack running, optimized, and secure can be expensive, but not doing it costs you more. Not only can a single breach set you back millions in fines, but it can also cost millions to fix the damage done to your systems and, perhaps worse, it can destroy the trust your customers had for your business.
At MTS, we believe you shouldn't have to spend a fortune to manage your technology. We help you get the exact level of service you need to keep things running, for a low monthly fee.
You get predictable costs with no surprise hourly fees. Our packages are all inclusive to help you get all the support you need for one price.

We provide dependable access to our entire team of IT experts who can help you with problems as they arise. Our techs are recognized as some of the most helpful, friendliest people in the industry (just read our reviews). But they're not just nice, they have certifications from companies like Cisco, CompTIA, Microsoft, and Google to make sure they know all the current best practices for the technology that runs your business.

We include regular strategy sessions to evaluate both your business and your technology needs to ensure your tech is serving your business in the best way possible. We are constantly looking for ways your tech can improve processes, workflow, and collaboration among your team. We want to be the strategic technology partner that guides your business into the future.
Get the managed IT services you need today
Ready to spend less time worrying about your tech and more time running your business? We're here to help.
Let's Talk